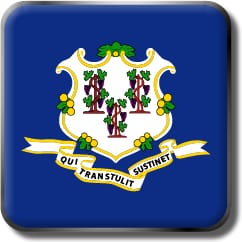 The State of Connecticut currently has two Native American tribes who are operating land based casinos in the state, operating pursuant to Connecticut Gambling Laws. Each of these establishments offers poker, slots, table games, and bingo. These casinos are regulated by the State of Connecticut Division of Special Revenue and the Connecticut State Police, with 25% of slot machine revenue being paid to the State of Connecticut as part of the state compacts between the Tribes and the State of Connecticut.
Definition Of Gambling In Connecticut
The definition of gambling under Connecticut law includes casino games and poker, and does not specifically mention Connecticut online gambling. The law specifically mentions poker as a gambling game along with several other games. Gambling refers to the risking of money, deposit, credit or anything of value (in whole or part) on lot, chance or the operation of a gambling device including a casino gambling game. The following games are considered as casino gambling games:
blackjack
craps
poker
roulette
slot machine
Connecticut gambling law makes it a crime to engage in any behavior that amounts to gambling. Engaging in gambling, encouraging other to gamble or merely being present while others are engaging in gambling can result in a class B misdemeanor charge. Sending or receiving gambling information using telegraph, telephone, semaphore, radio or any other means is a class A misdemeanor.
While Connecticut gambling law does not specifically outlaw online gambling, a game of online poker or online casino games could be interpreted by law enforcement as running afoul of this particular provision of Connecticut gambling law. However, these laws were designed to prevent players from participating in illegal gambling operations. There are multiple Connecticut online gambling sites which legally operate within the industry, but are licensed and regulated outside of the United States and are located within a licensing jurisdiction which has made online gambling legal.  In fact, there are many online gambling sites accepting CT players include Connecticut online casinos, poker rooms, online bingo halls, and sports betting sites accepting CT players.
Other Connecticut Gambling Pages
Connecticut Gambling Laws Concerning Professional Gamblers
The term professional gambling is generally associated with those who make a living by gambling as a player. However, the term professional gambling under Connecticut gambling law refers to those who profit from a gambling business. Organizing, promoting or operating gambling as a business is a serious offense with additional penalties.
What Types Of Land Based Gambling Are Legal In Connecticut
Not all forms of gambling are illegal in Connecticut. There are legalized forms of gambling in the state. Connecticut has a long history of legalized gambling. In 1939 the state legalized bingo for charity – charities could use bingo to raise money. In 1955 raffles, bazaars and mock casino nights were included to the list of games charities could conduct to raise money. In 1972 when the state lottery was introduced, it was amongst the first few states to do so. It is a member of the multi state lottery association. In 1996 the state lottery became a quasi public agency in an attempt to reflect its business orientation. The state lottery is managed and run by the Connecticut Lottery Corporation.
Off-track betting, greyhound racing and jai alai were legalized in the 1970s. Online betting on horse racing debuted in June 2013. 1981 saw the first attempt to legalize casinos but the bill failed to get the required support. Subsequent years saw more legislative attempts to legalize casinos but even those failed to get the required support. In 1988 the Federal Indian Gaming Regulatory Act was passed and the Indian tribes in the state were soon allowed to operate casinos on Indian reservations. Taking advantage of the compact, the Mashantucket Pequot Tribal Nation converted the bingo hall that they started in 1986 into a full fledged casino – Foxwoods Resort Casino. This is the largest casino in the country and amongst the largest in the world.
Connecticut Poker Gambling Laws
It is possible to legally play real money poker in Connecticut. It is legal to play real money poker at casinos in the state that offer poker. Charitable gambling is legal in the state. However, in the last decade, the law was changed to prevent charitable organization from holding casino nights. Home poker games are legal provided the participants are in a bona fide social relationship and no one receives any money from the game. Home poker games with real money can violate Connecticut gambling law. Home poker games are illegal if:
there is an entry fee
extra costs are added to the game
the pots are raked
gifts or tips are exchanged between the players
There are several legally licensed and regulated Connecticut online poker rooms which are located outside of the United States. These sites are legitimately certified and hold licenses from respected governing jurisdictions which have made online poker legal in their respective territories. These sites accept USA players, including those from the state of CT. There are no state or federal laws which expressly prohibit players in Connecticut from participating in this type of legally licensed online gambling operation.
Where Does The State Of Connecticut Stand Concerning Online Gambling
In 2011 after the Department of Justice stated that the Federal Wire Act did not apply to online gambling or poker, the state of Connecticut began to examine the issue of online gambling. Governor Dan Mallory openly acknowledged that once a state legalizes online gambling, all others would follow suit. In February 2012 the Public Safety and Security Committee held a hearing to examine the issue. At the hearing, the two Indian tribes in the state supported the idea of online gambling. Presently the legislators and the Indian tribes are discussing the issue. The state has already legalized online betting on horse races. The Mohegan Sun casino offers a free play online poker site. Foxwoods is making plans to offer real money online poker once the necessary regulations are in place.
The Federal Unlawful Internet Gambling Enforcement Act of 2006 does not make it illegal to play online poker or casino games. It is applicable to companies that process payments received from online gambling activities and not to individuals who indulge in online gambling as players. The law places strict regulatory oversight concerning how online gambling transactions can be processed in order to make the financial end of online gambling safer for both players and gambling site operators.
Connecticut Gambling Laws
Connecticut players who are interested in reviewing the actual laws and statutes governing gambling in the state can visit the General Statutes Of Connecticut (sec 53-278a) for access to this information.
**This website is intended to serve as informational only, and not to substitute for or provide professional legal services. If you are seeking a professional interpretation of any law or statute or any type of professional legal advice, we recommend that you contact an attorney who is trained to provide such services. We are not lawyers and are not able to provide any type of legal services of any kind.
Connecticut Gambling Laws FAQs
What Are The Consequences Of Unregulated Gambling In Connecticut?
If you participate in any unregulated behavior that the state has defined as gambling you could receive a class B misdemeanor charge. To the state of Connecticut, gambling means any game where a person risks money or anything of value on a game of chance. It was written to specifically mention poker and a host of casino games like Blackjack, Craps, Roulette and slot machines. Class B misdemeanors in Connecticut can put you in jail for up to 6 months with up to $1000 in fines.
Why Does A Gambling Site Need To Be Located Outside Of The United States To Be Legal?
US federal gambling laws dictate that these businesses cannot exist in the United States and have made unregulated gambling sites federally illegal. Although gambling is often left up to the states, there are only three states in the country that have relaxed their laws enough to allow for certain regulated forms of online gambling. Online gambling websites can't find regulation in most of the United States and thus are required to set up a headquarters for their businesses in places that will offer them proper regulation. The federal gambling law in the US dictates participating in unregulated gambling activities as totally illegal. However, these sites have been able to acquire the proper regulation in their offshore jurisdictions and are completely legal for most residents of the Unites States because of that regulation.
What About Professional Gamblers?
Professional gamblers probably have not made a home in Connecticut unless they are doing it at legally regulated offshore sites. Professional gambling in Connecticut is a legal term that carries a heavy gambling charge related to the owning and operating of a gambling business for personal profit.
Does Connecticut Have Tribal Casinos?
Connecticut has three tribal casinos and among those three is the largest casino in the US and one of the largest casinos in the world. The Foxwoods Resort Casino is a complex of six casinos and has more than 380 gambling tables over 4,500 slot machines.
Does Connecticut Allow For Social Gambling?
Yes. As long as the game is purely social and no particular party, or the house, makes any profit off of the game at all outside of their supposed winnings. There cannot be an entry fee, any extra costs added to the game in any form, and no pot raking.
Is There Charitable Gambling In Connecticut?
Connecticut will make the exception in their laws for charitable non-profit organizations to hold fundraisers using Bingo, and Raffles to raise money for social programs and aid.
Is Connecticut Likely To Legalize Online Gambling?
The governor of the state has acknowledged that the state will move in the direction of legalization as soon as the necessary steps have been taken. He has recognized that other states would follow suit once Connecticut leads the charge in legalization. Despite a few failed attempts, the state's native American tribes are also in favor of the online gambling industry coming into their home state. There have already been strides made with online gambling at horse tracks being legal.