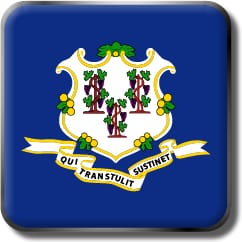 Connecticut is a major destination for professional poker players. The Foxwoods Poker Classic is a major annual poker tournament in Mashantucket, CT that serves as a proving ground for some of the best poker competitors in the world. The winner of the 2013 Foxwoods Poker Classic walked out of the casino that night with over 100 thousand dollars in prize winnings and a solid shot at the World Series of Poker.
Online poker in Connecticut is one of the primary training methods for the poker professionals that look to compete in tournaments like these. It allows them to see multiple hands simultaneously and really accelerate their experience. These types of features have dramatically evolved within the US online poker market, resulting in growing momentum for the presence of online games within the poker community. Poker has always been popular in the state and has established a substantial presence within the Connecticut online gambling market.
Online poker rooms for Connecticut players have been around for a long time.  These US friendly online gambling options have existed in a legal grey area that is sometimes hard to comprehend. This guide is to help you understand that legal grey area along with many other key ingredients in this industry. Here, you can find an explanation on the federal and states laws that impact state-sanctioned online poker rooms and what you should know to ensure that you are staying within the law. After you've armed yourself with the knowledge to understand the industry you'll likely start to look for things that appeal to you as a customer, like the promotions and bonuses that a website offers, the game selection, the software options, etc. We will also cover all those things right here in this guide. Shuffle up and deal!
Are Online Poker Sites Legal In Connecticut?
Typically, gambling laws in the US are left up to the state but there is still some federal oversight. USA online gambling laws do not outlaw online poker but CT players are urged to play with precaution to Connecticut state online gambling laws. CT state laws outlaw online wagering of any form but there has never been a reported arrest.
Most US states simply have not sanctioned or legally regulated online gambling businesses of any sort yet, with a few exceptions. New Jersey, Delaware and Nevada all have state licensed online poker sites operating legally within their territories. In those states, it is legal to obtain a license to operate an online poker site. Players living in or visiting one of those three states can choose between the state-based poker sites or the licensed poker sites operating outside of the US, such as the ones listed in this guide. For all other states, including Connecticut, residents will need to rely solely on the legally sanctioned offshore poker sites for real money poker gambling online.
Legally Licensed Online Poker Sites Accepting Connecticut Players
These are the poker rooms that we have taken the time to inspect so you don't have to. For a website to gain endorsement by us, it must have all the legal requirements met; they must be located outside of the United States and in a properly regulated area, they must have up-to-date licensing. They must also have compliance certifications from tech companies that are unassociated with the casino that verify that their Random Number Generators and software solutions have been properly tested for complete statistical randomness. Once we have verified that those things are in order we begin evaluating the site for quality, reliability and performance. These are the sites that won our endorsement.
Other Connecticut Gambling Pages
Connecticut Online Poker FAQs
What Games Can I Play At Connecticut Online Poker Rooms?
You'll be able to find high, medium, and low stakes US online poker games of all shapes and sizes. There are Omaha, Omaha Hi/Lo, 32 Card Draw, Americana, Texas Hold'em, and stud poker in 3, 5, and 7 card varieties. You may even find some variations of the game HORSE. Listed in with the promotions sections, you can find several tournaments and event opportunities at any given website that offer grand prizes and incentivize certain play styles.
The different variations of poker that are available to online poker players from Connecticut can be accessed through the free poker software that these websites supply. Poker software has been a driving force in the world of competitive and recreational poker. Usually designed from a technology development company that has been hired specifically for a particular brand. Poker software allows players to play more games and in a more enjoyable and convenient way. To the competitive poker world, poker software is like the technological advancement of the bow-and-arrow to Genghis Khan, it changes everything. Players can see upwards of 10,000 hands a day compared to the old casino days of maybe 20.
Can I Play For Free At Online Poker Sites?
Sparsely available, yet you will be able to find it in your search in a few forms. You might see an option for "play money" that will toggle your search for games online where you can enter into real poker games with other real people also playing with a valueless hypothetical currency that is more like points in a video game. This way you can play for fun with no financial stress and get to know the interface of the game you're playing before making real money bets.
Another option is what's called Freeroll tournaments. These are tournaments with no entrance fee that commonly carry cash prizes, which theoretically allows you to win money without risking any at all. There are also other bonuses that will allow you to play for free as well, they are called the "No Deposit Bonus". In the "No Deposit Bonus" you will be provided with free chips to play and if the special wagering requirements are met, you may stand to gain some profit off the bonus!
Are There Online Poker Bonuses For Connecticut Players?
The bonuses that a website can offer you can inform you a little on the quality of the website itself. Aside from the previously mentioned "No Deposit Bonus", there are also streams of other bonuses and promotions that will be offered to you as the various internet poker rooms court you as a customer. They vary widely but there is one that has been known as an industry standard, and that's the "Welcome Bonus". This is a match bonus where a percentage of your first deposit (or first series of deposits) is matched to provide bonus funds to your account. These welcome bonus' vary from site to site. It's worth looking at the other bonuses that a site may offer if the welcome bonus is lower than you might have expected. The other promotions that the site offers will normally make up for it.
Can I Play Real Money Poker Games From My Mobile Phone?
Mobile poker has come to the online poker community. You can access online poker rooms from your smartphones no matter who the providers are. The responsive technology on the internet allows Android users to download apps that make the transition to mobile poker seamless and without trouble. There is also the web browser based poker rooms that tend to be more available to iPhone users while Windows IOS phones and blackberries along with Android seems to have more options in downloadable apps.
What Are The Banking Options?
The wallet systems that are programmed into these websites are backed up by a data encrypted server with SSL security protocols in place. Once you register you will be ushered digitally to the online cashier where you will see the options for deposit and withdrawal. Although the deposit and withdrawal options are usually very similar, using any major credit cards like Visa, and MasterCard for a payout is usually not an option. You can use them to make deposits though, and then you can request your withdrawals through various bank-to-bank or person-to-person wire transfer methods. Commonly they also offer methods of mailing a check by post and sending one by courier. By far, the best method of sending funds to and from your online gambling accounts is Bitcoin and there are usually even bonuses associated with using it.
Connecticut Views on Poker Gambling from The Beginning
Governor of Connecticut in the early 90's, Lowell P. Weicker Jr. can be named as the one responsible for paving the way for gambling in the state of Connecticut. Through several legal proceedings and compromises, the Governor was able to create the foundation needed for the two gaming tribes of Connecticut to establish Casinos in their home state. What is now the largest casino in the US was just a Bingo hall in the late 80's, but in the early 90's when the legislature was there for them to do, they started to add poker and casino games. In 1995, they added a 30 table-game area for high-limit poker. All of these things led to the US government's federal recognition of the Mashantucket Pequot Tribe of Connecticut as an official native American tribe. Today there are three casinos in the state and they are widely regarded as some of the largest and nicest in the world.
Land Based Poker Rooms In Connecticut
https://mohegansun.com/playing/poker.html