Massachusetts Online Gambling Laws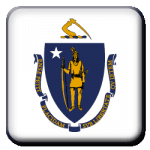 Massachusetts gambling laws only restrict domestic operations and have no power over offshore operators. Operators of illegal gambling activities face far more severe punishment than those who take part in an illegal gambling activity as mere players. In fact, those convicted of organizing or promoting an illegal gambling activity can face up to 15 years in prison. This page was created to inform residents of the legal aspects surrounding online gambling in the state of Massachusetts.
Massachusetts Gambling Laws Concerning Online Gambling
Massachusetts gambling laws do not specifically address online poker or online gambling. It is currently not legal to operate an online gambling site based in Massachusetts. There are however multiple gambling sites which are legally licensed and regulated, and located outside of the United States. Several of these sites welcome players from Massachusetts and are embraced as legal Massachusetts online gambling options.
While online gambling remains somewhat unaddressed in the state statutes, there is a mention of the use of a telephone for gaming purposes. Massachusetts gambling law specifically prohibits the use of a telephone for illegal gambling. The punishment for using a telephone for illegal gambling purpose is a fine that can extend up to two thousand dollars or a jail term not exceeding one year.
Other Massachusetts Gambling Pages
History Of Gambling Laws In Massachusetts
When the first settlers arrived on the mainland, many of them made Massachusetts their home. The Puritans among them did not allow gambling or anything remotely associated with gambling. In the 1800's when other states were trying to set up lotteries, Massachusetts openly sided with and helped those who opposed the setting up of such lotteries. In 1950, when four states voted against casino gambling, Massachusetts was one of them. Despite this long anti-gambling history, Massachusetts permits certain forms of gambling.
Massachusetts Gambling Laws Concerning Pari-Mutuel Wagering
Pari-mutuel wagering on horse and dog harness racing is legal in Massachusetts. The State Racing Commission was set up way back in 1934. Once the State Racing Commission was set up, a thoroughbred track called the Suffolk Downs was built. The track continues to operate even today. Harness and greyhound racing are extremely popular with the residents of the state. The Plainridge Racecourses is the only other operating racing facility in the state.
Massachusetts Poker Gambling Laws
Home poker games are legal as long as it is not being played in a public place or public conveyance. Under Massachusetts gambling law, a home poker game in which one of the players is a trespasser who happens to be on the property is illegal. Players of illegal home poker games can be fined up to $50 and may be sent to jail for up to 3 months. The host of an illegal home poker game can be fined up to $50 and imprisoned for up to a year. A home poker game would be illegal if the host charges a fee or rakes the pot.
It is not legal to operate an online poker site within the state of MA. For this reason, we recommend that players restrict their poker gameplay to legally licensed and regulated Massachusetts online poker sites that are located outside of the US within territories that have specifically legalized online poker gambling.
Land Based Gambling Laws In Massachusetts
There are no land-based casinos (including Indian tribal casinos) in Massachusetts. However, things may change soon. Last year, the state voted to allow three resort-style casinos to be set up in the state. The state is also negotiating with the Mashpee Wampanoag tribe to build the first Indian tribal casino in the state.
Charitable gambling conducted by qualifying organizations is legal. Qualifying organizations include:
veterans organizations
religious organizations
churches
educational or charitable organizations
civic or service clubs
fraternity or fraternal benefit societies
organizations or clubs operated exclusively for nonprofit purposes.
Massachusetts gambling law limits the amount of prize money to $25. There is no limit on the value of merchandise that can be given away as prizes.
Massachuttes Lottery
In 1971 Massachusetts legalized the lottery. In the early part of 1993, the Massachusetts lottery commission started to investigate the possibility of starting keno gambling as part of the state lottery commission's stable of games. Since keno is a combination of bingo and instant lottery games, the commission assumed that it could institute this game as long as it informed the appropriate legislative committees. Keno gambling was approved by the state legislature, and the lottery commissioner agreed to seek the approval of the legislature before instituting any new gambling initiatives.
Video Poker Games
Proposals for establishing video poker at racetracks were filed in the legislature early in 1993. However, legislators from the section of Massachusetts that was nearest Rhode Island were clamoring to expand the scope of video poker games for Massachusetts by allowing video poker games to be placed not only at racetracks but also in bars and restaurants. However, once the scope of video poker gaming was to be expanded to all forms of public entertainment, supporters of this industry pointed out the devastating consequences that video poker would have on horse and dog racing industries. Hence, the proposal was killed.
Legal Sports Betting In MA
As of now, there is no legislation to legalize domestic sports betting in the state of Massachusetts. Lawmakers and residents are expecting a proposed bill in the near future, but for the time being, offshore sportsbooks offer the only legal online sports betting option in the state.
Efforts To Legalize Online Gambling In Massachusetts
In 2011 and 2012 State Representative Dan Winslow made attempts to push for online poker but on both occasions, he was unsuccessful. As of today, there is no bill seeking to regulate online poker that is pending in the state legislature.
Federal Laws Concerning Massachusetts Online Gambling
Some players mistakenly assume that the Unlawful Internet Gambling Enforcement Act of 2006 prohibits US players from participating in legally licensed online gambling. This is not true at all. The UIGEA bill simply places strict regulatory oversight on how online gambling transactions can be processed. In fact, it does not address players at all but rather places the burden of regulatory adherence on the shoulders of the gambling site operators and payment processors. This federal law does not prohibit players from participating in online gambling.
Massachusetts Online Gambling Laws FAQS
What are the consequences of illegal gambling in the state of Massachusetts?
Like most states, Massachusetts police will issue a misdemeanor for simple gambling. A level one misdemeanor in the state of Massachusetts can get you up to 6 months in jail and a fine of up to $1000 dollars. The level two misdemeanor has a maximum incarceration time of more than 6 months with a substantially higher fine. A felony is the next step and is classified in Massachusetts law to garner at least a year in prison. Operating a gambling device or operating an online gambling business is enough to acquire a felony count.
Is there any legal gambling in Massachusetts?
Yes, Massachusetts has multiple forms of legal gambling for their residents to enjoy. There is a healthy community of pari-mutuel gambling in the state, along with a lottery and several casinos. There are several commercial and tribal casinos in the state and there are also casino cruises that take off from Massachusetts into international waters where there is less regulation. The state also allows certain legal exemptions to made in the way of charitable gambling.
What is Pari-Mutuel Gambling?
This is the form of gambling that is primarily used at horse and dog tracks around the world. In this form of gambling, bettors make their bets to a community pot which means the betting action takes place between players and not the house. The house takes a small fee and the players bet against each other on who the first, second, and third place winners will be.
What is Charitable Gambling?
The legal exception in the state of Massachusetts for charitable groups to use gambling games and activities as fundraising for their social programs and causes. These charitable organizations can offer bingo, bridge, raffles, pull tabs, and casino nights. Charitable organizations that would qualify for legal gambling fundraising are veteran's organizations, churches, after-school programs, or any organization that operates for nonprofit.
Massachusetts Gambling Laws
For those individuals who are interested in reviewing the state's laws and statutes in their original context, please visit the Massachusetts State Legislature Website for direct access to digital copies of the official documents.
**This site and the information therein is provided for informational purposes only and is not intended to replace or substitute for professional legal advice, services, or professional interpretation of the law. If you are seeking those types of services, we recommend that you contact a lawyer. We are not attorneys, nor are we qualified to provide any type of professional legal services or interpretation of the law.