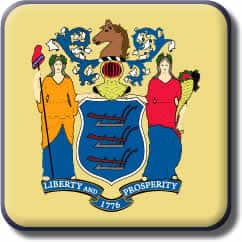 The Garden State is one of a few states in the country with laws to regulate online gambling. State laws allow New Jersey casinos in Atlantic City to offer state-based, licensed and regulated online casinos, poker sites, and sportsbooks. This adds a whole new level of New Jersey online gambling opportunities to the already existing legal offshore options.
Prior to NJ's gambling legislation, players who were interested in NJ online casinos, poker rooms, sports betting or bingo games were compelled to turn to legally licensed and regulated online gambling sites based outside of the USA. NJ players now have a whole new set of domestic options available to them.
Other New Jersey Gambling Pages
Who Is Targeted In New Jersey Gambling Laws?
The primary focus of New Jersey gambling laws is on the operator. A person who merely takes part in an illegal gambling game will not face a specific charge. However, there is only a thin line between a player and an operator. A player who informs his friend about an illegal game will be charged with promoting gambling. This is a far more serious charge. The definition of promoting gambling is broad and includes:
participating in the proceeds of a gambling activity
any conduct that materially aids gambling activity.
The definition of conduct that materially aids gambling activity includes:
the establishment or creation of a contest, device, game or scheme
acquiring or maintaining the premises used for gambling activity
possession of paraphernalia, equipment or apparatus used for gambling
soliciting or inducing others to participate in gambling
conducting the actual playing
arranging finances and keeping records
contributing to any other phase of the gambling operation
Any other activity associated with gambling can also be considered as conduct that materially aids gambling activity. These laws were enacted to protect the community from illegal operations and to provide punishment for anyone who assists in an illegal gambling scheme.
The Legalization of Online Gambling In New Jersey
The provisions of New Jersey gambling laws will not apply to NJ online poker and other games that can be played on the sites operated by the casinos located in Atlantic City, nor do they apply to legal online gambling which is based and regulated outside of NJ and/or the US.
Way back in January 2011, a bill sponsored by Senator Raymond Lesniak was passed by the State Legislature. This bill would have allowed New Jersey residents over the age of 21 to engage in online gambling. This bill was however vetoed by Governor Chris Christie as he was concerned that allowing players to place bets using any computer terminal would turn commercial businesses, cafes, and nightclubs into gambling hubs.
To address the Governor's concern, a new bill was drafted. Senate Bill-3536 was enacted to allow casinos located in Atlantic City to advertise or allow their facilities to be used for online gambling but prohibited other businesses from providing online gambling options without a proper facility or license. The bill was approved by the State Legislature and Governor Chris Christie signed the bill into law on February 26, 2013.
SB-3536 legalizes online gambling for 10 years but also imposes a 15% tax on revenues from online gambling sources. An online gambling site must be run from a casino located in Atlantic City, and players must be at least 21 years old and located within the State of New Jersey.
New Jersey passed domestic sports betting laws (A-4111) for their Atlantic City casinos and in June of 2018, the first legal sports bet was placed in the Garden State. One month later, online sports betting was authorized and is now available to NJ residents located inside state lines.
The legalization of online gambling in NJ gives residents and visitors a whole new set of state-based regulated gambling options. Domestic wagering options will benefit the state's budgetary needs and benefit residents of New Jersey rather than offshore businesses. Offshore options still offer high quality and secure online gambling opportunities for NJ and US residents but the domestic option provides assurance that is closer to home.
NJ residents also have the option of New Jersey online sports betting that is based and regulated outside of US borders. State-regulated online sports betting is still in its infancy in New Jersey, and many seasoned players still prefer to use offshore sites for their proven reputation and generous bonus offers.
Are There Any Federal Gambling Laws Which Impact NJ Players?
There is no federal US gambling law that specifically prohibits online gambling or poker play. Likewise, there is no federal law that regulates online poker for any US-based gaming options. The Department of Justice has specifically stated in 2011 that the Federal Wire Act applies only to sports betting. The DOJ's formal opinion allows each individual state to determine how they want to handle online casino and poker gambling for their respective territory. Since the repeal of PASPA, the Federal Wire Act has prevented online sportsbook operators from accepting bets from across state lines or from other countries. The Unlawful Internet Gambling Enforcement Act of 2006 does not apply to players but rather applies strict regulatory oversight to how online gambling related transactions are processed, which lies on the shoulders of the operators and not the players.
New Jersey Gambling Laws
For those who would like to review the actual gambling laws and statutes for the state of New Jersey, we suggest visiting the New Jersey State Legislature which will contain all of the laws in their original language. If, however, you are seeking a professional legal interpretation of any law or statute, or you are seeking legal advice, we recommend you contact a lawyer. This site is for information purposes only and is not intended to provide legal advice of any kind. We are not lawyers, we do not hold law degrees or certifications. We are experienced online gambling consultants.