New Hampshire Online Gambling Laws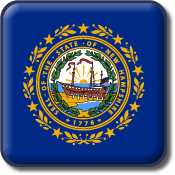 New Hampshire online gambling laws have not experienced dramatic change by offering domestic state-licensed online gambling options. However, this may change in the 2019 legislative session as a current pending online casino bill is in the works.
This guide will take a closer look at online gambling laws in the state of New Hampshire and inform residents of their legal online gambling options at licensed offshore online gambling sites.
Other New Hampshire Gambling Pages
Are There Any Federal Laws Which Impact New Hampshire Online Gambling
There are no federal gambling laws which prevent the domestic use of licensed offshore online gambling sites. In fact, most federal gambling laws are concerned with interstate sports wagering and banking regulatory compliance.
Most US citizens confuse the jurisdiction and application of these laws like the Unlawful Internet Gambling Enforcement Act which was passed in 2006. Contrary to popular belief, the UIGEA bill did not and does not prohibit US players from participating in online gambling from licensed offshore online gambling hosts. Rather the UIGEA placed regulatory oversight on how the gambling-related transactions could be processed by banks.
History Of New Hampshire Pari-Mutual Gambling Laws
New Hampshire has a long history with gambling dating back to the 1800s where gambling was rampant in the state, though illegal at the time. Gambling was very popular among the early settlers and grew as years passed.
In 1906, when Rockingham Park, a thoroughbred racetrack opened in Salem Depot, it attracted patrons from the state, as well as, from other neighboring states. However, it was shut down by the authorities within three days as gambling was still considered illegal.
In 1933, the state legalized pari-mutuel betting and Rockingham Park reopened. Today, Rockingham Park operates as a racino which is a racetrack with casino game tables including poker tables.
New Hampshire Sports Betting Laws
While domestic sports betting laws have been passed in New Hampshire after PASPA was repealed, many residents are hoping to see domestic sportsbooks launch before the Super Bowl. Neighboring states Rhode Island and Delaware currently allow domestic state-licensed sportsbooks and are a big reason why NH passed their sports betting legislation.
New Hampshire State Lottery Gambling Laws
The state of New Hampshire offers a state lottery to all NH residents. In 1964, New Hampshire became the first US main-land state to establish a state lottery. In the early 1960s, the state held a referendum asking the state residents to vote for or against a state lottery and more than 70% of the voters voted in favor of establishing the state lottery. With the establishment of the NH state lottery, New Hampshire became the first state to attempt state-run gambling.
In 2018, the NH lottery began selling lottery tickets online through the iLottery. Multiple instant games and multi-state lotteries are available for purchase through the state-licensed and regulated online portal.
New Hampshire Poker Laws
New Hampshire gambling laws only allow poker gambling through licensed land-based casino facilities, or charitable organizations operating poker parlors. There are no prohibitions against the domestic use of licensed offshore online poker sites. State law, however, does prohibit the operation of a domestically based unauthorized and unlicensed poker gambling platform. The law does not contain any specific exception for home or social games of poker.
New Hampshire Charitable Gaming Laws
Charitable gambling is permitted in New Hampshire via the state Racing and Charitable Gaming Commission which oversees all charitable gaming in the state. Charitable organizations with a charitable gaming license can conduct charitable gambling events with various casino games offered. To be eligible for a charitable gaming license the organization must:
have a charitable purpose
must be registered with:

the secretary of state for at least two years and
Charitable Trust Division of the state attorney general's office
New Hampshire Land Based Gambling Laws
There are currently 8 poker rooms within casinos or stand-alone locations in New Hampshire. Way back in the 1980s a bill to allow riverboat gambling in the state was introduced in the legislature but it was eventually defeated. A 1997 bill that sought to allow video lottery terminals never gathered the required votes to pass. In 2006, companies were permitted to operate games of chance at poker parlors. Today there are still no slot machines or video poker terminals, but table games and poker is allowed.
Efforts To Legalize Online Gambling in New Hampshire
There has been no real effort by the New Hampshire legislature to regulate online gambling, aside from a bill introduced for online casino gambling legalization.
In 2010, the state Governor John Lynch declared that he would support online gambling in an attempt to tackle the state's budget deficit. This declaration came despite his known opposition to casinos and slot machines - he dropped the idea soon after.
Aside from online gambling, no legislator has made any attempts to bring a bill to regulate, permit, or prohibit online gambling other than sports betting. However, it is currently illegal to operate any type of online gambling sites within New Hampshire as these are not authorized by the state.
New Hampshire Gambling Laws
For the convenience of those interested in reviewing the state's gambling laws in their entirety - access that information on the State of New Hampshire Revised Statutes Online Official Website where the official documents are available in their original context and language.
New Hampshire Online Gambling FAQS
What Are The Consequences Of Illegal Gambling In New Hampshire?
Illegal gambling in New Hampshire will result in a misdemeanor offense.  Misdemeanors in New Hampshire are broken down into two classes. A class A misdemeanor is more severe and can result in up to 12 months in jail and $2000 dollars in fines. A class B misdemeanor is less severe and can result in up to a $1200 fine but with no jail time in the class B offense. Running a gambling operation in the state can result in a felony charge and therefore, should be avoided.
What Legal Forms Of Gambling Are There In New Hampshire?
The state of New Hampshire has various gambling establishments within the state. There are several commercial casinos and charitable organization operated facilities, racetracks, lottery retailers, and bingo halls.
However, New Hampshire is one of the few states that do not have social gambling clauses written into their laws. Rather, pari-mutuel gambling, a lottery, and charitable gambling is written as an exception to their gambling regulation. Licensed offshore online gambling is permitted but domestically based operations are not.
What Is Charitable Gambling?
The term "charitable gambling" refers to a common exception in gambling laws that allow charitable organizations to run bingo, raffles, poker, and other minor forms of gambling for charitable causes. These organizations have to be non-profit and benefit the community in some way with the profits from the gambling entertainment provided.
What Is Pari-Mutuel Gambling?
The type of gambling that takes place in horse and dog racetracks. This can be found inside the Rockingham Park Racino in New Hampshire. In this form of betting, patrons choose their bets and place their money into a communal pot before the horse races have begun. In pari-mutuel gambling, the bettors bet against each other instead of the house like in a traditional casino. When the race is won, the winners split the winnings according to the bets they took.
Can I Get In Trouble For Hosting A Poker Night At My House?
Yes, in the state of New Hampshire, players can. Typically, social gambling is a clause that is in most states that allows residents to host privately held games of poker amongst friends with a bonafide personal relationship as long as the host takes no rake of the pot. In New Hampshire, this is considered illegal.
Official New Hampshire State Gambling Laws & Statutes
For the convenience of those interested in reviewing the state's gambling laws in their entirety, you can access that information on the State of New Hampshire Revised Statutes Online Official Website where the official documents are available in their original context and language.
**This site is does not provide professional legal services of any kind, including legal advice or interpretation of any laws or statutes. This page is for informational purposes only. If you are seeking any type of professional legal services at all, we recommend that you contact an attorney.