Wyoming Online Gambling Laws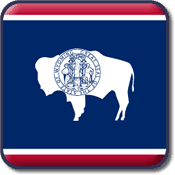 When it comes to gambling, Wyoming doesn't have many domestic options. However, there is a whole world full of online wagering games that state residents can take advantage of based on local WY online gambling laws.
This guide was created to provide clarification of Wyoming online gambling laws and to inform residents of the legal options they have for online gambling. This page will go into detail on domestic laws, federal laws, and game-specific laws including poker, casinos, charitable gaming, sports betting, and more.
Other Wyoming Gambling Pages
What Is The Legal Definition Of Gambling in Wyoming?
Gambling is defined as the risking of any property for gain that is contingent wholly or partly on chance, or operation of a gambling device in the event where the person who is risking has no control.
The definition of gambling under Wyoming law differs from that of other states in a big way. In most states, chance must play a major role in the activity to be defined as gambling. However, under Wyoming law, even a small element of chance is sufficient for the activity to be treated as gambling. This does not mean that all activities where an element of chance in involved is illegal. Wyoming gambling law makes exceptions for charitable gambling, social gambling, lotteries, and certain other forms of gambling.
Wyoming Online Gambling Laws
It is currently not legal to operate any type of state-based online gambling site due to the lack of passed state laws allowing state licensed or regulated online gambling sites to exist. This prohibition includes domestically operated and based online casinos, poker rooms, sportsbooks or bingo halls.
Players who wish to participate in these types of gambling opportunities should limit their participation to legally licensed offshore online gambling operators. We have provided access to multiple options throughout this guide, including Wyoming online sports betting, casino gambling, poker gambling, and bingo game wagering.
Are There Any Federal Laws Affecting Gambling In Wyoming?
At this time, there are no federal or state laws which prohibit players from participating in legally licensed and regulated online gambling sites which are located outside of the United States. The DOJ has left it up to each state to address the issue of state-sponsored and regulated online gambling. At this time, Wyoming has not moved forward with any type of legislation which has legalized online gambling operations within the state.
The Unlawful Internet Gambling Enforcement Act of 2006 does not prohibit US players from participating in legally licensed online gambling, but it rather addresses operators and payment processors by placing strict regulatory oversight on how online gambling transactions can be processed by banks. The Federal Wire Act once was interpreted to prohibit domestic online gambling but in 2011 was revisited to only prohibit domestic online sports betting, allowing states to license and regulate domestic-based online poker and casino gambling.
History of Gambling in Wyoming
Wyoming has a long history of gambling. Way back in 1822, the first original Western saloon was built in Brown's Hole. It was originally built for the fur trappers in the area. However, as settlers came in, virtually everyone who passed through Wyoming tried their luck at the saloon and by 1880 there were more than 150 such saloons in Wyoming. Many of these saloons offered poker and faro.
The famous Occidental Hotel was well known for high stakes poker games that would last for days. In 1888, the state legislature considered regulating gambling but decided against it as gambling was way too popular. However, in the 1900's new laws were passed and most forms of gambling were banned. Horse racing was, however. allowed and betting on horse races were permitted for some time before it was outlawed as well.
What Are The Poker Gambling Laws in Wyoming?
In Wyoming, social poker games are legal as long as no one is participating directly or indirectly in professional gambling. As long as there is no rake or the stakes are limited, home poker games are legal. A high stakes home poker game can run afoul of Wyoming gambling law. Poker games are permitted at tribal-run casinos.
It is illegal to operate an online poker site in Wyoming, however, it is not illegal to play online poker at a legally licensed and regulated poker site located outside of the United States. We have provided access to several high quality and secure Wyoming online poker sites which have been providing services to US players for years.
Is Charitable Gambling Allowed in Wyoming?
Wyoming gambling laws have an exception for charitable gambling. However, poker cannot be offered as part of charitable gambling. Under Wyoming law, non-profit organizations with a tax-exempt certificate can conduct charitable gambling events for profit. Pull tabs, bingo and raffles can be offered as part of charitable gambling.
Is Pari Mutuel Wagering Legal in Wyoming?
Wyoming legalized pari-mutuel wagering in 1967. Pari-mutuel wagering on steer roping is also allowed, subject to local approval. In August 2003 instant racing machines were introduced. However, these machines were shut down in 2005 after a court held that instant racing is illegal. The last live race was held in 2009 before resuming in 2011. 2011 also saw the establishment of the state Pari-Mutuel Commission. In March 2013, instant racing was legalized once more.
Are There Land Based Casino In Wyoming?
There are four Indian casinos in Wyoming. When the Congress passed the Indian Gaming Regulatory Act in 1988, objections were noted by Wyoming. The state, however, entered into a class III gaming compact with several federally recognized native tribes who operate casinos in the state.
Does Wyoming Have a State Lottery?
Until 2013, there was no state lottery in Wyoming. In fact, February 2007 the house rejected a bill that would have established the state lottery and there were two more unsuccessful attempts to start the state lottery after that. However, on March 13, 2013, the governor signed into law a bill authorizing the state lottery. The lottery is likely to sell its first ticket this year. The law only allows terminal-based draw games.
Wyoming Online Gambling Law FAQs
Is Online Gambling Legal In Wyoming?
Online gambling is in a legal limbo right now. The state has not passed any laws authorizing state-licensed online gambling platforms but can introduce legislation in the 2019 legislative session. With no domestic online gambling sites in operation, WY residents need to use legally licensed offshore gambling sites.
Has Wyoming Legalized Sports Betting?
Not yet. Even though PASPA is repealed, Wyoming lawmakers haven't drafted any bills regarding sports betting legislation in any form during the 2018 legislative period. This may change come 2019.
What About Domestic Online Casinos Or Poker?
The same can be said about domestic online casinos and poker. Wyoming has had the option of legalization since 2011, but they have yet to even legalize commercial brick-and-mortar casinos. This is not a good sign for the state.
Who Controls Gambling In Wyoming?
The Indian tribes currently dominate the market, albeit a small market. All land-based casinos are tribal based and regulations are handled according to the tribal-state compacts. Any new legislation dealing with domestic online gaming would have to be negotiated into the existing compacts.
Official Wyoming Gambling Laws & Statutes
This content was provided for informational purposes only and is not intended to replace or serve as professional legal services, advice, or interpretation. Should you be seeking professional legal services, we suggest you contact an attorney. We are not lawyers nor are we trained or certified to provide any type of legal services or advice.
If you'd like to review the laws and statutes of Wyoming in their original context, you can access the official documents on the Wyoming State Legislature: Statutes and Annotations website.