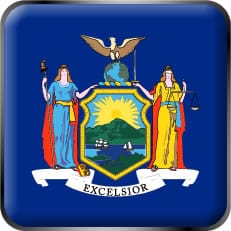 The State of New York Gambling Laws permit gambling cruises, as well as inland gambling via Class III casinos operated by various Indian Tribes, and Class II Bingo, also operated by Indian Tribes in New York. Slot machines became legal in 2001 and allow gaming operators who are licensed in New Jersey to operate in NY. As you can see, the state of NY does provide some land-based and off land-based gambling opportunities for players to participate in.
Online gaming is becoming increasingly popular among United States players and New York residents, despite the sometimes confusing legal landscape surrounding online gambling activity. The Justice Department originally claimed that online gambling is illegal under the 1961 Wire Act. Although the language of the statute clearly addresses telephonic wagering, application to Internet gambling is unclear in the act's current form. Traditionally, this act was not designed to punish the individual bettor but the bookmaker, individual, or organization responsible for perpetuating such activity. Thus, the law may be applied to Internet bookies but not individual bettors. Furthermore, the act specifically includes sports wagering only. In late 2006 Congress passed the Unlawful Internet Gambling Enforcement Act (UIGEA), which placed stringent regulation on how online gambling-related transactions are to be processed. There are no USA federal gambling laws which prohibit or criminalize United States players from participating in online gambling activity.
Other New York Gambling Pages
Where Does The State of New York Stand On Legalizing Online Gambling?
The federal government has passed legislation to limit or eliminate US-based Internet gaming, but some state governments have openly supported online endeavors in their gambling enterprises. For example, the creation of Capital OTB may signal a new era in governmentally sponsored gambling. Created by the New York State legislature, Capital OTB is designed to increase revenue earned from offtrack betting. Ostensibly, this agreement revitalizes a dying industry (i.e., horse racing) while providing funding for local programs. However, it remains unclear as to who is the primary beneficiary. Not surprisingly, state acceptance or tolerance has thus far been limited to endeavors that fatten government coffers.
The State of New York has not adopted a specific law that makes online gambling illegal. The exact legal status of online gambling under New York state laws is complex. New York state laws explicitly prohibit bets, stakes and wagers on the outcome of any unknown or contingent event including any contest, game, gaming device or gaming scheme where the result depends on an element of chance, even if the skills of the contestants play a vital role in the result. While the law does not address online gambling, NY players have been limited to legal online gambling sites located, licensed and regulated outside of the United States.
Gambling under NY state laws is an activity where a person risks or stakes something of value on the result of a contest of chance or of a future event that is not under his control or influence upon an understanding or agreement that in case of a particular result, he will receive something of value. A game of chance means one in which the result depends on an element of chance, even if the skills of the contestants play a vital role in the result. A player refers to the contestant or better who only engages in the gambling activity but does not receive or become entitled to receive any profit other than his personal winning and does not render any form of material assistance to the persons conducting the gambling activity.
Will NY Residents Break The Law By Participating In Online Gambling?
Under New York state law, there are no criminal penalties for persons who take part in a gambling activity as a player at legal licensing options such as New York sports betting sites or NY poker rooms as long as they are not based and regulated within the United States. Anyone who engages in bookmaking is not a player. Bookmaking refers to the acceptance of bets from others as a business. Bookmaking is illegal and is considered as advancing gambling activity. Taking part in any activity associated with gambling other than as a player will generally be considered as advancing gambling activity and includes without limitation:
creating or establish a contest, game, device, scheme or activity
acquiring or maintaining premises, equipment, paraphernalia used for the gambling activity
inducing or soliciting persons to participate in the activity
conducting the activity, game, contest or scheme
arranging the financial reward
maintaining accounts
Any person who has significant proprietary or other authoritative control over a property being used for gambling activity and knowingly allows such property to be used for the gambling activity will also be advancing gambling activity.
The offense of advancing gambling activity is a misdemeanor offense. It will be considered a felony offense if the gambling activity receives 5 bets in a day totaling $5000 ($500 in a day from lottery, enterprise or policy scheme).
What Is The Status Of Federal Online Gambling Developments?
At the present time, the question of the legality of online gambling, in general, remains unanswered. There has been virtually no ruling from a federal court that remedies the situation. As such, it is unclear as to, if any, enforcement agency has jurisdiction over online gambling. Due to this ambiguity, states have been slow to take action against online activities that violate anti-gambling statutes. With the lack of clarity available, there are no US-based online gambling sites currently in operation, however, with the recent legalization of online gambling in some form in Nevada, New Jersey, and Delaware, that is sure to change very quickly for residents of those states. Residents of other states will need to continue to patronize legal non-US based online gambling sites for the time being.
There are some high quality legally licensed and regulated online gambling sites that operate outside of the United States and that welcome US player, including New York players. There are no laws specifically prohibiting New York residents or US residents in general from visiting and participating in online gambling at these sites, including legally licensed offshore New York online casinos or online bingo halls accepting NY players. We do however recommend that you consult a professional guide (such as this one) to gain access to reputable online gambling sites which have been vetted by professional online gamblers for legitimacy within the industry, licensing and certification validity, and confirmation of the quality of security profiles present at legal New York online gambling sites.