New York Online Gambling Laws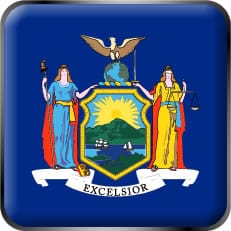 New York gambling laws are fairly friendly, as the state permits Class III Indian casinos, Vegas-style commercial casinos, Class II tribal gambling and bingo venues, horse racing betting (on-track and OTB), retail and mobile sports betting, the New York Lottery, retail poker, and more.
However, with the exception of online sports gambling and online horse betting, New York doesn't have many options for players who want to risk and win real money over the Internet.
While several states have legalized online casino gambling and online poker alongside their new sports wagering platforms since PASPA was overturned in 2018, NY hasn't done so, and there's no telling whether or not the state will move in that direction any time soon.
Other New York Gambling Pages
What Types Of Gambling Are Legal In New York?
NY offers just about every common gambling amusement you can think of. The only real snag is that depending on the type of gambling you'd like to participate in, the options can sometimes be limiting.
For example, if you want to gamble online, you're stuck with local sports gambling and betting the ponies. For everything else, you've got to saddle up and sidle up to a brick-and-mortar venue. But that's not always the most convenient option, and you may not even be old enough!
Luckily, when you play with offshore online NY gambling sites, that's never an issue, as these operators offer all the amusements you'll find going the local route, but with none of the associated expenses and headaches.
The following list shows you all the different kinds of NY gambling markets available to you via both domestic and online international venues:
Class III Casino Gambling – 21+
Offshore Casino Gambling – 18+
In-Person Sports Betting  (NCAA Restrictions) – 21+
Online Sports Betting (NCAA Restrictions) – 21+
Offshore Sports Betting (No Restrictions) – 18+
In-Person Poker Gambling – 21+
Offshore Poker Gambling – 18+
In-Person Bingo – 18+
Offshore Bingo – 18+
In-Person Horse Racing Betting – 18+
OTB/Simulcast/Online Horse Racing Betting – 18+
Offshore Horse Racing Betting – 18+
New York Lottery – 18+
Offshore Lottery Games – 18+
In-Person Charitable Gambling Games/Class II Casino Games – 18+
General Gambling Laws In New York
The main New York gambling laws can be found in the Consolidated Laws of New York, though you'll have to know where to look depending on the type of gambling you're interested in.
The following list features all the relevant links to the current gaming laws of New York state.
You can also find more information about each of the Class III tribal gaming compacts entered into between New York and various NY Native American groups. Simply select "New York" from the drop menu at the "Indian Gaming Compacts" page of the US Bureau of Indian Affairs (BIA) website here.
Federal US Gambling Laws Affecting NY Players
No federal USA gambling laws criminalize offshore online gaming, as these laws target only unregulated US-based gambling operators and domestic financial institutions. To be clear, even in the domestic capacity, these laws exclusively target commercial enterprises, not private players.
Nevertheless, it's important to be an informed gambler, which is why we're including all the federal gaming laws here, along with how they might affect your online gambling activities.
Federal Wire Act of 1961
The Federal Wire Act – also called the "Interstate Wire Act" or, simply, the "Wire Act" – is an antigambling law passed in 1961 and signed into law by President John F. Kennedy. This law made it illegal for US-based sports gambling operators (aka bookmakers or bookies) to accept sports bets across state lines.
The Wire Act still exists today, which is why you can't place a sports bet with a Las Vegas sportsbook or New Jersey sportsbook via phone or Internet from New York.
The  Wire Act is why all domestic sports betting apps must be geofenced, and it's why you'll always see inflated lines and generally poor odds on local favorites. Meanwhile, offshore sportsbooks can take bets from residents in all 50 states, which makes their odds far more favorable on the big New York teams.
Professional and Amateur Sports Protection Act of 1992
The Professional and Amateur Sports Protection Act (PASPA) – aka the "Bradley Act" – was signed into law by President George H. W. Bush on October 28, 1992.
PASPA barred all states but Nevada from being legally able to create their own single-game sports betting markets. Effectively, PASPA gave Las Vegas a legal monopoly on brick-and-mortar and domestic online sports gambling.
PASPA was overturned as unconstitutional on May 14, 2018, and this made in-person sports betting legal in New York as a result of the state's passage of the Upstate NY Gaming and Economic Development Act in 2013 (which removed the sports wagering restriction by default as soon as federal law was revised to allow for such).
Although PASPA has no effect on NY gamblers today, it's had a huge effect on the sports betting market in New York. Indeed, PASPA is why the offshore sportsbook market is so far ahead of where domestic sports gambling in NY finds itself today.
Unlawful Internet Gambling Enforcement Act of 2006
Despite its scary-sounding name, the Unlawful Internet Gambling Enforcement Act (UIGEA) does not target individual gamblers in any way.
Passed as a stealth rider on an unrelated port security bill in 2006, the UIGEA mandates that domestic United States financial institutions (i.e. banks, credit unions, card processors, etc.) must not "knowingly" process online gambling transactions to or from non-US-regulated betting sites.
For NY online gamblers, the UIGEA has proved to be a considerable annoyance until only recently. The law effectively stopped online gambling sites from using credit and debit card chargebacks for payouts, and it made card-based gambling deposits much less reliable.
Of course, the UIGEA also led to the advent of crypto gambling, allowing players to top off their accounts and request payouts with Bitcoin, Bitcoin Cash, Litecoin, Ethereum, etc. Talk about a silver lining of pure gold!
Where Does The State of New York Stand On Legalizing Online Gambling?
New York has expanded gambling within its borders significantly over the last 10-15 years. Starting in 2013, the state legalized the construction of four new commercial casinos, adding these to the 25+ Class II and Class III tribal gambling venues already operational in the state.
Then, with the overturn of PASPA, sports betting hit the scene, and statewide mobile sports betting was legalized in April 2021. The first mobile bets were taken in early January 2022.
But will New York legalize online casino games (aka iGaming) or online poker? That's something we can't answer. It seems that – eventually – New York legislators will indeed legalize the New York online casino and New York online poker markets in a domestic capacity, but it may take years.
Until then, of course, you can actually play online real-money gambling games and participate in real-money online poker in NY by using any of the reputable international online casinos and poker rooms recommended here.
Is Online Gambling Against The Law In New York?
Not for individual players. If you're running an underground gambling ring, acting as a black market bookie, or taking a rake as the operator of a social gambling venue, you will be in violation of New York state gambling laws.
The offense of "advancing gambling activity" is a misdemeanor. However, such actions will be considered felony offenses in the event that such gambling activity exceeds five (5) bets and/or results in wagers of more than $500 per day.
It is 100% safe and legal to gamble online in New York as long as you do so with an established, reputable operator operating outside of US borders.