New York Online Sports Betting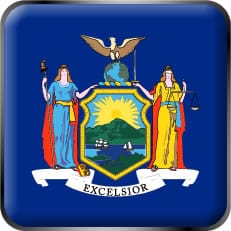 With so many successful collegiate and professional pro sports teams in and around New York,  it's no surprise that NY sports betting is so popular. It's also no surprise that the state finally got off the schneid and decided to legalize domestic New York online sportsbooks.
For the first few years after the overturn of PASPA, NY residents would have to travel out of state – i.e. over the bridge into New Jersey – to legally bet with domestic sportsbook operators. Now, they no longer have to, as mobile online sports betting is legal and operational in NY as of 2022.
But just because this kind of New York online gambling is now legal locally, that doesn't mean domestic NY sports betting sites have the most odds, the best bonuses, or the biggest payouts. Most of the time, they don't. For real variety and the best chances to win, NY-friendly legal offshore sportsbooks are a much better option. Our brief guide to New York sports betting will explain why.
Is New York Online Sports Betting Legal?
Yes! You can safely and legally bet sports online in New York via both domestic and international offshore sportsbook sites. For many years, overseas sportsbooks operating outside of US borders were the only game in town for NY sports fans.
There are no NY gambling laws or federal USA gambling laws barring New Yorkers from playing with these online operators, provided that the sites you choose are run in full compliance of international gambling standards.
If you don't want to play with a non-US-regulated offshore sportsbook, though, you don't have to. NY legalized in-person sports betting in 2019,  and mobile sports betting was added to the menu by way of a budget allowance signed by former Governor Andrew Cuomo in 2021.
Online NY sports betting officially launched on Jan. 8, 2022.
Best New York Online Sportsbooks For Big Apple Bettors
The table below provides a list of all the best legal online USA sportsbooks available to New York players. Each site has been vetted by our team of online gambling experts to meet every criterion for fair play, up-to-date betting lines, valuable bonuses, and timely payouts.
Best of all, each online NY sportsbook venue is 100% web-based, so there's nothing to download or update. Just follow any link below using your favorite mobile device, and you'll be betting on New York sports in a New York minute!
Other New York Gambling Pages
What Sports Can I Bet On At New York Online Sportsbook Sites?
Domestically, you can bet on almost anything you expect, with the exception of local NY college teams (no matter where in the US they're playing). You also can't bet on NCAA college sports prop bets with NY-based online sportsbook or NY brick-and-mortar sports betting lounges. However, everything else is a go.
Meanwhile, if you bet sports online at any of the New York-friendly betting sites we recommend here, you'll be able to choose from an even bigger selection of sports, with all the college action you can handle and no restrictions of any kind.
Here are just some of the online sports betting markets you can enjoy at offshore NY sportsbooks:
NFL Football
NCAA College Football
NBA Basketball
NCAA College Basketball
MLB Baseball
NHL Hockey
MLS Soccer
International Soccer (Premier, La Liga, Bundesliga, FIFA, etc.)
Golf
Tennis
Boxing
MMA/Combat Sports
Summer Olympics
Winter Olympics
Rugby
Cricket
eSports (Madden, WOW, LOL, Fortnite, Dota 2, etc.)
Parlor Games (Pool/Billiard, Darts, Bowling)
Entertainment (TV, Movies, Music)
Politics (USA + International)
Current Events
+ More
New York Online Sports Betting Bonuses
Online sportsbook bonuses are one of the best reasons to place your wagers with an international sportsbook operator rather than a domestic venue. Typically, offshore NY sports betting sites give you sportsbook promos that are not only more valuable (thus boosting your bankroll by 100%-300% of your deposit amount), but they also give you much lower rollovers.
In addition, you'll also get longer windows to meet the terms of your bonuses. At domestic NY books, for example, most bonuses expire after just two weeks. Offshore sports betting bonuses, though, can be active for a month or more, with some sites putting no time limits on their promos at all!
Also note that the New York betting sites featured here all accept Bitcoin and other cryptocurrency gambling options, which no domestic NY books can compete with. And that matters because, when you deposit in crypto, you can get even more online sports betting free plays every time you top up your account!
New York Mobile Sports Betting Apps
As of January 2022, all domestic NY sports betting sites have mobile apps. You can download these NY sports betting apps in the App Store (iPhone, iPad) or Google Play store (Android).
However, there's a catch: To use these apps, you must physically be located within New York state borders. If you travel out of state, you will not be able to wager with your domestic operator until you come back into NY.
This method of GPS tracking/restriction is called "geofencing," and it's something all state-based sportsbooks must employ to stay in compliance with the federal Interstate Wire Act of 1961.
Offshore sports betting sites, however, are legally exempt from the Wire Act's mandates, and these venues allow for mobile sports betting with no geo-fencing of any kind. Even better, there's nothing to download or update, as every international venue we recommend makes their sportsbook options available right through your mobile web browser.
Just log into your site using any mobile device, and you'll get a US mobile sports betting experience that fits your screen – and your thumb! – perfectly.
How Does Online Live Sports Betting Work?
Live in-game sports betting is the most popular new kind of online gambling. Unlike traditional bets, live bets can be placed after a game has already started, and the odds dynamically adjust to reflect the action as it unfolds.
Before ubiquitous Internet access and sophisticated stats tracking technologies, live betting was a virtual impossibility. Now, at all the top New York sports books online, live betting is almost a mundane mainstay.
Practically each of the hundreds of daily games covered by the top books has live betting lines once the opening whistle blows. Just remember to pay close attention to the shifting odds because each line is only up for 30-60 seconds before they change again. You snooze, you lose! 
New York Online Sports Betting Banking Options
Deciding which online sports betting deposit methods to use can be a daunting task. With local books, you're pretty much limited to debit cards and linked bank accounts. That's simple enough.
However, when you bet with the best New York online sports gambling venues, you have many more options to consider. These include all of the following, and the menus are always growing at every top operator:
Bitcoin
Altcoins (Bitcoin Cash, Litecoin, Ethereum, Cardano, Solana, Dogecoin, Ripple XRP, Stellar, Chainlink, USD Coin, Tether, etc.)
Zelle-to-BTC
Cash App-to-BTC
Visa, Mastercard, American Express, Discover
International Gift Cards
Cashier's Checks
Money Orders
Bank Wires
Retail Money Transfers
Sports Betting Vouchers*
MatchPay*
P2P Apps (PayPal, Venmo, Cash App, Zelle)*
eWallets (Apple Pay, Google Pay, Samsung Pay)*
*Vouchers and MatchPay are currently exclusive to Bovada as of Q1 2022. These options allow sportsbook members to buy and sell account balances among one another using P2P apps and eWallet platforms.
We recommend always gambling on sports online using Bitcoin or another supported cryptocurrency at your site of choice.
Crypto betting transfers can never be interrupted or declined by the UIGEA law, they come with zero added fees, they let you claim enhanced sportsbook bonuses, and they're the only way to get guaranteed same-day payouts.
Is Pari-Mutuel Wagering Legal in New York?
Yes! You can bet on horses online in New York at both domestic and offshore venues. The state also allows legal domestic off-track betting (OTB gambling) and simulcast horse betting.
New York has a rich horse racing and horse betting history, as Elmont, NY, is home to the famous Belmont Park. Each June, Belmont Park hosts the 12-furlong Belmont Stakes, aka "The Test of the Champion."  As the last leg of the Triple Crown, the most famous racehorses in history have all been crowned at this course.
As with sports wagering in NY, we actually prefer betting the ponies online at international betting sites. These venues tend to offer more daily races, and you can also place horse futures bets, which is something that isn't legally allowed at domestic parimutuel venues.
New York Sports Betting Minimum Age
In New York, if you want to bet on sports with a domestically licensed operator, you'll have to be at least 21 years old. This is nearly universal throughout the US online sports betting industry for those states that have legalized local sportsbook operations.
However, if you sign up with a legitimate international NY sports betting site, nearly all venues set their minimum age requirements at only 18 and up. This is just another reason among many why offshore sports gambling sites are always better than local bookies.
New York Sports Teams To Bet On
NY Professional Teams
Buffalo Bills (NFL)  – Buffalo, NY
New York Giants (NFL) –  East Rutherford, NJ
New York Jets (NFL) – East Rutherford, NJ
New York Mets (MLB) – Queens, NY
New York Yankees (MLB) – The Bronx, NY
Brooklyn Nets (NBA) – Brooklyn, NY
New York Knicks (NBA) – Manhattan, NY
Buffalo Sabres (NHL) – Buffalo, NY
New York Islanders (NHL) – Long Island, NY
New York Rangers (NHL) – Manhattan, NY
New York City FC (MLS) – New York City, NY
New York Red Bulls (MLS) – Harrison, NJ
New York College Teams
University of Albany Great Danes (America East) – Albany, NY
United States Army Black Knights (Patriot) – West Point, NY
State University of New York Binghamton Bearcats (America East) – Vestal, NY
University of Buffalo Bulls (MAC) – Buffalo, NY
Canisius College Golden Griffins (MAAC) – Buffalo, NY
Colgate University Raiders (Patriot) – Hamilton, NY
Columbia University Lions (Ivy League) – Manhattan, NY
Cornell University Big Red (Ivy League) – Ithaca, NY
Fordham University Rams (Atlantic 10) – The Bronx, NY
Hofstra University Pride (CAA) – Hempstead, NY
Iona College Gaels (MAAC) – New Rochelle, NY
Long Island University Sharks (Northeast) – Brooklyn, NY
Manhattan College Jaspers (MAAC) – The Bronx, NY
Marist College Foxes (MAAC) – Poughkeepsie, NY
Niagara University Purple Eagles (MAAC) – Lewiston, NY
St. Bonaventure University Bonnies (Atlantic 10) – Olean, NY
St. Francis College Terriers (Northeast) – Brooklyn, NY
St. John's University Red Storm (Big East) – Queens, NY
Siena College Saints (MAAC) – Loudonville, NY
Stony Brook University Seawolves (America East) – Stony Brook, NY
Syracuse University Orange (ACC) – Syracuse, NY
Wagner College Seahawks (Northeast) – Staten Island, NY