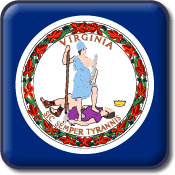 Virginia has strict prohibitions against domestic casino gambling. The state is one of seven US states without commercial brick-and-mortar casino venues. In fact, the state outlaws online casino gambling offers based in the state as well, leaving no domestically licensed casino options for VA players.
However, residents can enjoy legal real money online casino games such as slots, table games, and specialty games through licensed online casinos that accept Virginia residents and operate offshore. This page explains the legality and acceptance of licensed offshore casinos by the state of Virginia and the federal government.
Is It Legal To Use Online Casinos In Virginia?
Yes it is, as long as players use legally sanctioned offshore online casinos. Virginia state gambling laws forbid domestically licensed online casinos based in the state. However, licensed offshore casino sites are a legally viable online casino gambling option because VA gambling laws fail to prohibit their use.
In the same note, the Federal government issues no prohibitions against their use by Americans. Coupled with the fact licensed offshore operators are also outside US jurisdiction due to their international licensing they are technically permitted.
Therefore, VA players can enjoy casino gambling at licensed offshore casino platforms without worry of prosecution by either the state or federal government.
Legal Online Casinos For VA Residents To Use
Looking for legitimate online casino action? The sites listed below are our top industry picks for licensed offshore casino gambling sites. Each brand is cleared to accept Virginia gamblers and has been in the industry for over ten years. Each site is committed to offering a variety of game options, attractive bonuses, smooth funding, and excellent customer service to VA players.
Other Virginia Gambling Pages
Does Virginia Have Any State-Based Casinos?
Virginia's gambling laws do not permit any sort of commercial casino gambling due to clear prohibitions against their operation in the state. In the same note, the state has not formed any state-tribal gaming compacts with any local tribes, so there is currently no chance of VA tribal casino gambling either. However, VA players have the option of casino gambling through licensed offshore VA online casinos.
Has Virginia Attempted To Introduce Casino Gambling?
There have been multiple attempts to introduce commercial casinos to the state. Senator Louise Lucas proposed a bill in 2012 that would have created the Virginia Casino Gaming Commission and plans for multiple brick-and-mortar establishments. However, that bill, along with a similar effort forwarded by Lucas in 2014 and other legislators, failed.
Where Can Residents Find Legal Casino Action?
Due to the harsh ban on casino gambling in the state, many VA residents flock to neighboring states where casino gambling isn't looked upon so negatively and permitted through state licensing. This takes away from potential revenue the state of Virginia could be earning, but with no regulatory framework in place for land-based casinos, the point is moot.
However, VA players can legally access casino gambling right form their home from licensed offshore online casino sites.
What Is Virginia's Online Gambling Legislation?
There were three bills filed in 2011 pertaining to online gambling which became law: HB1584, HB1700, and SB1195. These bills clearly define domestic online gambling as illegal, hindering any chance of online casino gambling surfacing in Virginia. If online gambling were to come to Virginia the state would need to amend or repeal these bills.
Can I Sample Games For Free At Offshore Casinos?
Licensed offshore VA casinos allow registered users to try their hand at multiple games without risking any of their own money. This is known as Free Play mode. Users can participate in as many Free Play games as they would like. Switching over to real money gambling is as easy as pressing a button.
Free Play is also available for VA online bingo games, and Va online poker rooms.
How Do Offshore Casino Bonuses Function?
Once a player joins a licensed offshore casino they will likely notice an assortment of bonuses and other promotions available. In order to claim these, players must make a deposit and enter in the corresponding promo code for the bonus they want to redeem. These codes often offer match deposit bonuses which supply players with additional gambling funds, free spins, game promotions, and more. However, each bonus comes with the terms and conditions which should be read thoroughly before acceptance.
Any Chance Of Virginia Legalizing Domestic Online Casinos?
It is difficult to say. Their anti-online gambling laws were passed in the same year that states were given the option to legalize domestic online casinos and poker websites. The three bills mentioned earlier which prohibit online gambling in the state would need to be repealed or amended for there to be any chance of domestic online gambling.
Furthermore, the prospect would likely go to a voter referendum and there does not seem to be a sense of urgency or demand for commercial gambling options, leaving the state little incentive to try and rush out any sort of new legislation. This leaves VA players with licensed offshore options as their primary avenue for convenient casino gambling at home.