Virginia Online Gambling Laws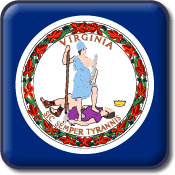 As far as gambling entertainment in Virginia goes, pari-mutuel wagering, off-track betting, lotteries, keno, charitable gambling, and horse races pretty much sum up the domestic opportunities available as permitted through the state of Virginia's Gambling Laws. Casinos, poker gambling, sports betting, and greyhound racing are strictly prohibited.
This guide is geared toward explaining the legalities and terminology found in Virginia gambling laws, as well as, discuss the multiple legal ways Virginians can gamble online.
Other Virginia Gambling Pages
Illegal Domestic Gambling In Virginia
Virginia gambling laws define gambling as betting anything of value on anything that is a matter of chance or uncertainty. The law provides separate charges for players and operators of VA-based illegal gambling. Participating in an illegal gambling activity as a player is a misdemeanor offense, however, conducting an illegal gambling operation is a felony crime. Virginia gambling law deals with the issue of cheating at gambling in a unique way. The penalty for cheating at gambling is a fine that can be anywhere between five to ten times the amount won by cheating.
No attempts have been made to legalize state-based and licensed online gambling opportunities like poker, online sports betting, or online casino gambling in Virginia. However, there are legally available Virginia online gambling sites which are licensed, regulated, and located outside of the United States.
History Of Gambling In Virginia
Virginia has a long history of gambling, even before the state was given its name, Native Americans on the land indulged in betting on dice games and athletic events. The European colonists brought their own games of chance and skill and soon gambling became a problem. In 1610 and 1612 new laws were passed in an attempt to control gambling but the government found it difficult to enforce these new laws.
Nearly two hundred years later, in the 1920s, pari-mutuel betting was legalized in the state. however, prohibition set this back until 1989. Legal Off-Track Betting locations commonly referred to as Satellite Wagering Facility locations began to pop up. In addition to the Off Track Betting locations, the state also has numerous Off-Track Betting terminals called the EZ Kiosks that allow people to set up betting accounts to place bets on off-track races. Some of these terminals are located in bars and clubs across the state.
Later on, VA permitted charitable gambling in 1973. The state later legalized lotteries and set up the Virginia Lottery in 1988. In 2016, Virginia granted licensing for Daily Fantasy Sports operations.
Virginia Social Gambling Laws
Social gambling is legal in Virginia as long as it complies with certain requirements:
The residence or home where the game is held cannot be commonly used as a place where games of chance are regularly held.
There is no operator
All participants have an equal chance of success
No one is using or running the event as a business
Home poker games are legal as long as they meet these requirements no matter how high the stakes rise.
Virginia Charitable Gambling Laws
Charitable gambling is permitted in Virginia and has been since 1973. Common forms of permitted charitable gambling games include bingo, raffles, and duck races. Depending on the type and status of the charitable gaming organization, a few other games can also be offered. Poker and casino nights, however, are not on the list of permitted events for charitable organizations to offer. Organizations permitted to conduct charitable gambling include:
volunteer fire department or auxiliary unit of such department
volunteer rescue squad or auxiliary unit of such squad
charitable, religious, educational or community organization
athletic association
booster club or band booster club
war veterans association or auxiliary unit of such association
fraternal association
corporation operating under the lodge system
local chamber of commerce
nonprofit organizations
While the body that oversees charitable gambling in other states generally consists of 5 members, the Virginia Charitable Gaming Board consists of 9 members:
5 political appointees as in other states
1 leaser or owner of a facility that offers charitable gaming
1 law enforcement officer not connected to any other member of the gaming board
1 charitable gaming supplier
1 member of a charitable gaming organization
Lottery Games In Virginia
In 1988, voters in Virginia voted in favor of setting up a state lottery. This resulted in the establishment of the Virginia Lottery Board. Besides the popular lotteries, lottery vendors in the state also sell scratch-off cards known as scratchers.
Online Gambling Laws In Virginia
Federal laws do not prohibit Americans from participating in online gambling. The Department of Justice cleared all doubts about the non-applicability of the Federal Wire Act to online poker in 2011.
In addition, the Unlawful Internet Gambling Enforcement Act of 2006 does not make it illegal to play online casino games, poker games, or sportsbook wagering but rather places strict regulatory oversight on how operators and payment processors can handle your online gambling transactions - despite common misconceptions. The UIGEA was designed to keep operators from laundering money or participating in fraudulent financial endeavors through their gambling sites, not to hinder player participation.
You will find multiple legitimate and legally licensed offshore Virginia poker sites and sports betting sites accepting VA players which are located and regulated outside of the United States.
Virginia Online Gambling Law FAQS
Are All Forms Of Gambling Legal In Virginia?
No, poker gambling, sports gambling, and commercial and tribal casino gambling are considered illegal according to the state. However, VA players may participate in DFS betting. All forms of domestic online gambling based in VA are considered illegal. VA players looking to enjoy poker, sports betting, or casino gambling can do so through a licensed offshore VA online gambling site.
Will Virginia Legalize Domestic Online Casinos Or Poker?
There have been laws in effect for over 7 years keeping domestic online gambling at bay. It is possible lawmakers decide to revisit the idea of online gambling in the future, but we cannot provide a firm point in time in which this would happen. To offer state licensed VA-based online gambling offers would require the state to amend or repeal laws put in place in 2011.
Has Virginia Moved On Sports Betting Legislation?
Virginia has not mapped out any plans to implement a legally licensed and regulated VA sports betting market. They have the capability of introducing land-based, online, and mobile wagering options since May of 2018 but have yet to consider the option. The neighboring state of West Virginia has no issue introducing sports gambling legislation which passed earlier in 2018. VA bettors have opted to travel to land-based sportsbooks taking their state dollars with them. therefore, the 2019 VA legislative session could see a bill surface to try to recapture their state dollars.
Official Virginia Gambling Laws, Statutes And Penalties
Players who are interested in seeing the actual language and context of the official laws and statutes surrounding gambling in the state of Virginia can visit the state's official Virginia Legislative Information System Website. This link provides access to the official documents.
**Our site is intended for informational purposes only and is not intended to substitute for professional interpretation of laws and statutes by licensed and trained attorneys, nor is this site designed to provide any type of legal services. We are online gambling consultants and do not claim to offer or be trained to offer any type of professional legal interpretations or services.