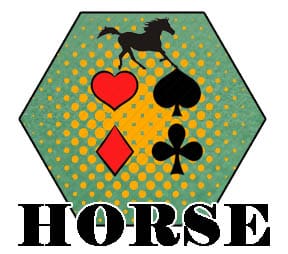 HORSE is a multi-game form of poker that incorporates 5 different poker games; Texas Hold'Em, Omaha High/Low, Razz, Seven Card Stud, and Eight or better. HORSE is usually played at high stakes tables, tournaments online, or in domestic poker rooms.
Since the addition of HORSE in the World Series of Poker Tournament, the popularity of the game has been on the rise. This page was created to provide more information about all the individual games that go into making HORSE a popular poker game, as well as the options that are available to legally play HORSE online in the US.  
Is Playing Online HORSE Poker Legal In The USA?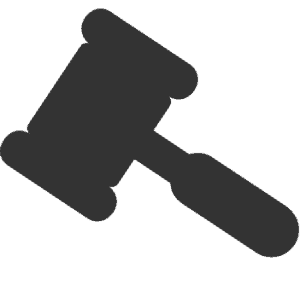 Yes. There are no USA gambling laws that make it a crime to play HORSE online through licensed domestic or offshore poker sites. Only two states have created specific statutes to forbid online HORSE poker gambling; Washington and Connecticut. 
Though several states have authorized state-regulated online poker entertainment, the game of HORSE is not typically offered by those sites.  Licesned ffshore online poker sites are much more likely to offer any variations of the game. 
Best US Online Poker Sites Offering HORSE
The following poker rooms all have HORSE poker options that are legal to play online from the United States. Our team of industry professionals has determined that these sites have the best customer satisfaction ratings, banking options, and possess the necessary licenses to offer online games to the United States. 
The Games Included In HORSE
By now you know that HORSE is a mixed poker game that encompasses 5 different poker games into one. There are a pot and bets placed on each individual game. In most cases, HORSE is played in limit form to keep players from flexing their chips. Below is a brief rundown of the games that when played in succession makes up the game of HORSE.
Texas Hold'Em –  A variation of poker where 2 hole cards and 5 community cards are dealt to each player. The player with the best 5 card hand wins the pot.

Omaha High/Low –  Played with poker rules, this variation includes 4 hole cards and 5 community cards. Players can only use 2 hole cards for their 5 card hand. In the end, the player with the best 5 card poker hand wins the pot.

Razz –  A poker variation that is known as low ball poker. The object of this game is to produce the lowest possible 5 card hand. Straits and flushes don't count against a player for low.

Seven card Stud –  A variant of stud poker also known as Down the River. 2 cards are dealt faced down and 5 cards are dealt face up, after the betting rounds, the player with the best 5 card hand is the winner of the pot.

Eight or better –  The most common high / low split pot game of stud. For a player to win low, they must produce the worst hand they can and include an eight or better. The best hand and the worst qualifying hand will split the pot.
What To Expect When Playing Online HORSE Poker
When playing online HORSE, players can expect some noticeable differences than that of the traditional table game. To begin, there is no face to face interaction. The games are still the same just without the physical table and personal interaction. Some players thrive when there is no physical communication, but other seasoned players prefer the interaction and the tells and ticks that often less experienced players often give off.
With most legal online poker rooms there is either a dedicated space or an additional downloadable platform where players must sign in and use to access online poker games. The freedom associated with online poker rooms is what really sells the games.
Variations Of HORSE
While HORSE is a collection of different poker games thrown together, there are other variations that add or take away poker games to form a new variation of HORSE. The following games are other variations of the popular HORSE game.
                HOSE – HOSE is just like HORSE except they drop the game of Razz.
                CHORSE – The same as HORSE but it adds the game of Chowaha.
THORSEHA – Another mix of HORSE but this variation includes 8 games. First offered by PokerStars in 2008s. It adds the games 2-7 triple draw, no limit Hold'Em, and pot limit Omaha.
WSOP HORSE
HORSE made its way to the big stage in 2002 when it was added as a game on the World Series of Poker (WSOP) tournament. In 2006, the buy-in increased to $50k and produced a winning pot of $1.7m. This set the pace for the game of HORSE and had enthusiast around the world itching for a chance to buy-in. Chip Reese won the event in 2006 and took away the grand prize. A year later Chip died and the WSOP created a memorial trophy in his name for their following HORSE events. 
HORSE Poker Strategy By Game
Largely due to the World Series of Poker mixed betting games has seen a rise in popularity over the last decade. Poker strategy with the game of HORSE is really a strategy on 5 different games.
For (H) Hold'em, poker strategist say the best strategy is to play aggressively when you have a good hand and to mix up your tells. Poker players often try to read their competitors and a seasoned player can read tells, therefore, it is important to vary up your style of play.
Omaha (O) is a flop game, for the most part, it is best to play aggressive when you are dealt a good hand, and to increase the pot as much as you can.
Razz (R) strategy varies from aggressive to conservative but for the most part, you should assess your opponent's cards and figure what range of hole cards they might be holding. Aggression is another important strategy in Razz and forcing a player to fold often can be beneficial in the long run.
Seven-card Stud (S) strategy is a tricky one since there are more cards showing players should have a better idea of their odds to drawing a needed card. When playing stud, having one or more high cards adds value to your hand but having two high cards is even better.
Eight or better (E) is the last game in HORSE and strategies range from not playing bluffs to raising in a raise war. One of the best strategies for Eights or better is to play high hands rarely, the numbers are in favor of low hands.
Where To Find HORSE
In recent years HORSE has become more prevalent and today it is common to see the game played at high-stakes tables and exclusive tournaments. There are even online poker rooms that now offer HORSE. The combination of games helps develop poker players into overall strong players by gaining experience with several different poker variations.